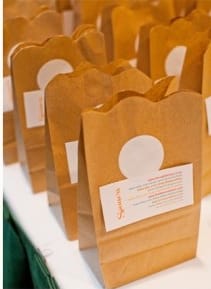 Did you make it to the recent Make It and Love It meetup in Denver? I was supposed to be there- but I went ahead and indulged my lazy self and spent the day in bed, instead. (Sure I know, I am on bedrest, so it's not like I am some slacker… but I felt so bad I missed it, I sure felt like one!).
Plaid sent over an amazing selection of goodies for the women who attended to enjoy, all from the oh-so addictive Martha Stewart line.
In addition to the chance to walk away with an awesome gift bag full of some amazing stuff, each woman who attended got to snag some bottles of Martha Stewart paint, including a bunch of glitter paint! (I love Martha's new paint- it is multi surface and can go on ANYTHING! Fabric, metal, glass… whatever!).
I needed a fun, easy, and inexpensive way to hand out the paint- and I needed something that wouldn't take a ton of energy to make. When I saw the lovely candy-filled thank you pouches Ashley made, I knew I had a really easy way to dress up the attendee's swag bags without breaking the bank. My solution?
LUNCH SACKS!
I know… I know, not exactly haute couture, but the fun, relaxed and easygoing vibe of the event (and the fact that we are in Colorado, where rustic reigns) lent itself to a little creativity.
All I did was take two $.98 packages of lunch sacks (with 50 in each) that I picked up at my grocery store, and cut the tops off, into a little scalloped design. I just cut by hand, so they are all a little bit different (you can cut about 5-10 at a time since they are pretty thin). The scalloped top also cut off the ugly lunch sack label at the top of each brown paper bag.
The super talented Kirstin of KoJo Designs made some lovely tags thanking all of the sponsors of the event, as well as all of the companies who provided the awesome goodies from the event and stuck them on with circle label stickers. Perfect!
I was so sad I couldn't be there to meet everyone… if you were there and we didn't get a chance to meet, please leave me a comment below! I love to make new blog and crafty friends in the Colorado area! (I am in northern Colorado).
And congrats to the lucky lady who won a bag full of Martha Stewart goodies from Plaid! There were fabulous stencils, tons of awesome mediums (fabric, crackle medium, etc.), paint brushes, paint- it was SO hard not to keep it all to myself before the event. In fact, I was so tempted I went out and immediately bought just about the whole line. Love it!
To check out the rest of the meetup, head over to Make It and Love It for all of the details! We have to do this again, soon! And when I am not ready-to-pop pregnant! A certain friend and I might even have something planning in the background
.
If you haven'd had a chance to check out the full Martha Stewart Craft line, head over to the website, stat. And don't say I didn't warn you- it is impossible to not NEED all of the awesome goodies when you see them!
ALL PHOTOS FROM THE MEET-UP WERE TAKEN BY KATIE OF KB DIGITAL DESIGNS.
You rock, Katie! You did a fantastic job.
(Katie is a Colorado wedding/lifestyle blogger…….contact her for your next event.)
Please, please leave me a note if you were there and we didnt have a chance to meet! I'd love to see YOUR blogs and meet some other Colorado crafties! I might even try to set up something for my up-north ladies in the loveland-fort collins-greeley-laramie areas! Email me at sweetcsdesigns (at) gmail (dot) com if you're interested! (It will be post baby, sometime this summer). 
If you enjoyed this post, please add Sweet C's to your RSS feeds, or add me, and Sweet C's Designs on G+! Larger networks help me find new opportunities and help offset some of the costs for running this blog.
Courtney is a mother of two hyper blonde babies and lives in Northern Colorado with her husband and Angus, her black lab where she writes the popular lifestyle blog Sweet C's Designs. Courtney loves crafting, skiing, traveling, cooking, home decor and creating recipes her family and friends love. You can often find Courtney reading about photography, touring breweries, sipping wine, or basically doing anything she can do avoid housework. Advertising, media and other inquiries- please contact sweetcsdesigns@gmail.com
Latest posts by Courtney ODell (see all)