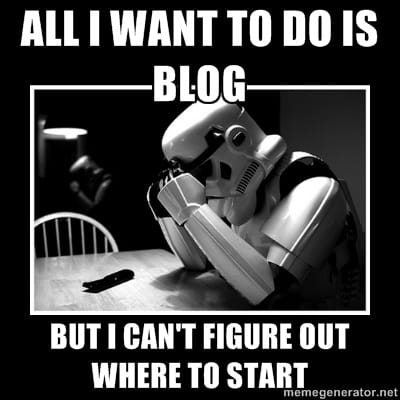 Going crazy trying to figure out how to set up your blog? You are NOT alone! One of the biggest obstacles you will ever face in blogland (and continue to deal with, no matter your size and how long you have been blogging) is dealing with WHERE and HOW to setup your blog.
Today I am going to cover two important and confusing topics: Publishing Platforms and Web Hosting- essentially where your blog can be found, and how your files are stored online.
A publishing platform is the software you use to post a blog post, change your design, run your site. This is the one area you will really care about, because it is the one you interact with the most. When contemplating a new blog, you've probably heard about a lot of platform options- but the most popular, and for good reason, are WordPress and Blogger.
Technically both are free to use, but with a self hosted WordPress site, you have to pay for web hosting, which runs anywhere from $6-$50 a month (depending on blog size). Google is your web host if you use Blogger- they do all the work for you and you don't have to think twice about it (but as with any free service, there are always downsides to this).
Web hosting is your blog's virtual home. It is where your files are stored, where your viewers computers actually download your websites information. You won't really ever "see" your web hosting, so it is an easy thing to overlook or not put a lot of thought into- but web hosting is an important factor in running a smooth, quick website.
When you are just starting out, I'd recommend a Blogger blog. Yes, I realize I am a web designer, and work with people to make WordPress blogs- and telling you to start with Blogger is kind of counterproductive to me making money. But here's the thing- if you haven't ever blogged before, you should get a feel for it for a while. And you shouldn't spend any money until you know you really love it.
A lot of bloggers burn out, really quickly. Out of about 15 blogs I know of that started when I started Sweet C's over a year ago, I know of one or two still blogging. I feel really bad for the ones who spent at least $70 on a year of hosting, and possibly more on designs/themes. Be sure you LOVE what you are doing before wasting your money.
Remember, if you are a craft blogger, you're already going to be spending a lot of money in the beginning on craft supplies, camera equipment you'll just have to have, etc. Give yourself at least four months of consistent, 5 day a week posting, to be sure you love this before spending on website hosting.
Don't be tempted to sign up for wordpress.com. Yes, I know it is free. But you can't add ads to your site, and you are going to want to at least have one ad. Use blogger, and work towards a self-hosted wordpress site when you are just starting out. Either option allows you to buy your own domain name (which should run under $10/yr), making your first real blog investment rather small.
When you're ready for a blog YOU own, and more customization options, as well as better SEO, make the jump to a self-hosted WordPress site. (quick note- don't head to wordpress.com to set up your site. That is an entirely different option I am not going to cover here, since it is a free service and does not allow for ads, which I assume you'll want to make some money. Don't get hung up on this, just don't go to wordpress.com and sign up thinking you just got a self-hosted site)
You might wonder why people choose wordpress over Blogger for their blogs. There are a lot of really great, well known, and big blogs who use Blogger and have for years. I personally chose a self-hosted wordpress site because I wanted more flexiblity and functionality in my design than Blogger gave me. I wanted to own my website, not give up ownership to Google (I might be a bit of a conspiracy theorist, but their terms of service scare me and I like to know my site is MY site). I was sick of dealing with Blogger hiccups and outages, which seemed frequent. You don't have to have a wordpress blog to be a "big" blogger, and having one won't get you there- that is up to you and your stellar content. But if  you think self-hosted is the way for you, read on to see how to proceed, or take your current self hosted blog to the next level.
There are a few steps you need to take to setup your new self-hosted site, and you don't have to fork over a bunch of cash to do it.
First, buy a dedicated URL if you don't have one yet. Buy your URL through your new hosting provider- you will get it free with one year of web hosting. I refer my clients to Blue Host to set up their hosting services and buy their URL's. If you have under 20,000 pageviews, or are making under $50 a month from your blog, you don't need to splash out on more expensive hosting services- you can get great, reliable and fast service for $6/mo.
Blue Host is very easy to use, and I love their C-Panel. You can install wordpress with one click, it is a breeze to setup your own emails and subdomains (don't pay a developer to do that! You really CAN do that yourself- in just a few simple steps), and you don't have to mess with FTP accounts for most things you will be doing. Of course, your developer (insert another shameless plug here for my web design services) can do all of this for you if you'd prefer not deal with the hassle.
To physically move your blogger site to wordpress, there are some easy options. I personally used the blogger import widget on my wordpress. It moved everything for me. Your developer can do this for you (I personally don't charge for this service when you purchase a blog setup) or you can do it yourself if you are comfortable using widgets.
Once you've been blogging a while and have a dedicated following, and need more space, think about upgrading. If you have over 30,000 pageviews a month, you are experiencing very slow loading times, or have been told by your host you have gone over your bandwidth, you need to start thinking about having your own Virtual Private Server (vps) OR premium grid hosting through a top-notch company. These run about $20 a month and give you more space, more bandwidth, and much faster speeds.
I recommend Media Temple's grid hosting over other companies Virtual Private Servers. Media Temple's shared server service allows for more space, speed, and flexibility than other companies VPS services. The nice thing about using Media Temple is that if and when your blog grows to the point you need your own lightning fast virtual private server (which run $50/mo), they can upgrade you without having to transfer your site. They also offer one-click wordpress install, 24/7 help, and some of the best designers around. Click on the logo below to learn more about Media Temple and their rates.
Note: To migrate your website to another server, you will need to spend about $100-$150 for a developer to setup your transfer, unless you use Blog Vault as a backup service. Then you can download your database and files and upload them to your new host, and re-direct your nameservers yourself (this is very easy and the Blog Vault team is super helpful in this process if you ask them- and it is FREE when you pay for the $9/mo backup service).
One last bit of information- before doing ANYTHING to your blog, be it moving from Blogger to WordPress, transferring to another server, or even making changes to your wordpress theme, you need to BACKUP your work! There are a lot of widgets you can find to do this for you, and a lot of free tutorials you can find online that will show you how to make a blog backup. If you spend a lot of time and effort on your blog, you would be devistated if you lost everything. Luckily, a backup allows you to quickly and easily restore your site. Be sure to back up nightly (or get a widget that does that for you). I personally use Blog Vault on Sweet C's. They do all the work for me, and it is $9/mo. I had a code issue wipe out my site, and a hacker crash it. Both times I was back up and running in less than half an hour by simply clicking "auto restore". How easy is that?? Totally worth $9/mo even if I never use it if only for peace of mind!
There are numerous free database backup widgets you can find in wordpress if you'd like to do it yourself. Just be sure you know HOW to use them before anything goes wrong. Find a tutorial and do a practice run (like a fire escape plan) so you know when it is 3am and your site is down you won't completely panic yourself or be so desperate in need of a solution you fork over all your hard earned blog dough to a developer. Have a plan in place and know what you are doing, so you can stay calm in a blog emergency! (I know, this sounds dramatic. But hey, I am dramatic, and thinking I lost my blog was like thinking I lost my car or something).
Up next week… I am going to be talking themes, widgets, and all things wordpress!
If you have any questions, or would like more information, please email me at sweetcsdesigns@gmail.com . I love to help other women and small businesses find inexpensive, reliable and easy to use solutions to their blog, eCommerce, and social media needs. 
Disclaimer: This post contains affiliate links. While compensated for referring readers to these sites, all opinions are my own, and I do not link to any site or service I don't personally stand behind.
Courtney is a mother of two hyper blonde babies and lives in Northern Colorado with her husband and Angus, her black lab where she writes the popular lifestyle blog Sweet C's Designs. Courtney loves crafting, skiing, traveling, cooking, home decor and creating recipes her family and friends love. You can often find Courtney reading about photography, touring breweries, sipping wine, or basically doing anything she can do avoid housework. Advertising, media and other inquiries- please contact sweetcsdesigns@gmail.com
Latest posts by Courtney ODell (see all)