I've received a few questions recently about the pegboard organizer system I use in my craftroom- so I wanted to re-post this awesome (and totally inexpensive) idea for easy organization! I hope it gets you interested in different tools you can use to organize your space!
I have a lot of stuff. I have pens, glue sticks, cricut tools, scissors, hole punches, bobbins, pins, thread, eyelets, grommets- a. lot. of. stuff.
Before I started my reorganizing, I had a chaotic system- I could find everything, but it took a few minutes. Now that my little guy is starting to stand, I know walking isn't far off- and I wasn't really comfortable with having things that could be dangerous on a table top, either. He can't reach the table yet, but he seems to be growing so fast, now seemed like just as good a time as any to get things where he certainly can't reach them.
I had a pegboard sitting around that we weren't using anymore. We had used it in little mans crib underneath his mattress for our angel care monitor (something I swore I'd never buy, but after my poor husband was so worried in the hospital that something would happen to his little guy, I figured it was a small enough investment to make us feel more comfortable).
I first picked out a wall color. I knew I wanted to paint my wall before I hung up my pegboard so I wouldn't have to take it down to paint it. I had picked out a very lively color scheme that I actually took off a bottle of Anchor Steam Beer- a robins egg blue, red, and a buttery yellow. I painted the wall the blue and spray painted the pegboard red. I hung everything up, and while I loved the colors, I thought it just didn't "go" with out house. It also didn't go with any of my furniture in the room, the curtains, or my previous projects. I can be impulsive sometimes- which is why I am very glad I bought small cans of paint and had decided to do one wall at a time!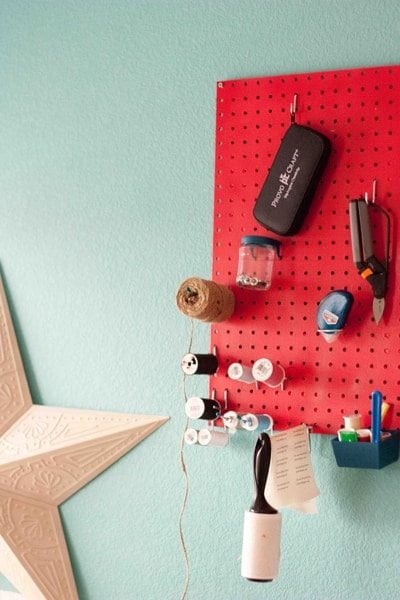 take one… just too bright
When we painted little man's room, we had a TON of leftover paint. I knew the blue was a little more subdued, so I went ahead and covered over the wall. The red was just too bright, so instead of painting the buttery yellow on the other walls (which I ended up not liking as well) I decided to re-paint the pegboard with it. Pegboard uses a lot of paint. It soaks it up like water on a terracotta pot. To get a smooth application, you are going to need multiple coats. If you paint it outside in the sun, it will at least dry remarkably fast.
After repainting everything, I put up all of my tools with a pegboard organizer kit I got at Lowe's for $10 (i found it here online for $11, but I'm sure you can find better prices on Amazon, etc). I might paint the plastic parts of the set later, but these kits are totally the way to go. They have more than enough hooks and this one i got even came with two plastic trays and jars. Perfect for little bits!
I hung thread (and pre-loaded bobbins matching the threads I use most) together on long pegs. I put smaller threads, machine needles, measuring tape and other sewing accessories in the plastic trays. I hung jute twine on some long pegs as well so I can use them easily in sewing projects- straight on the board.
Scissors went in a row in a loop rack, hole punches and other tools in additional racks.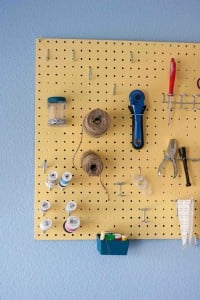 I hung my glue gun off a loop peg so it is out of little man's reach. I can pull it down and plug it in when I need it and this way I won't lose it (which happened many time before, it would get stuck in and under piles)!
The plastic jars are holding eyelets and cricut blades currently. I am going to add a few more jars in the future though.
My favorite part of the wall are these little "mugs" i found at Joann Fabrics- they are indoor planters, and were on sale for $1 (small) and $3 (big). I tried to link to them online, but after looking through about 6 pages I gave up. They are perfect containers for hot glue sticks, pens, and paint sponges- and they are so cute! They had two holes pre-drilled in the back, so I just hung them off of two loop pegs, and voila!
I still have a lot of unused pegs, but once I finish going through all of my zillions of boxes and drawers in my craft area, I will have them almost full (and the rest will just have to wait for new playthings!!).
This project was one of the bigger undertakings, but one of the most rewarding. The drab walls in my room were uninspiring, and having clutter makes me really agitated. I'll show the rest of the wall soon when the whole project is complete! (And I'm going to wait to photograph the whole wall until I fix up some areas that I totally messed up- my walls are seriously textured, and the painters tape did NOTHING to help. I have blue smudged ceilings, horrible borders, and need to flake paint off my molding now, thank you very much. I usually don't use tape and just wing it- the time I did it looks like a drunk monkey painted my room! Look for a post coming soon on how to fix those screw-ups as well as take some major paint stains out of carpet…).
Latest posts by courtneycodell (see all)